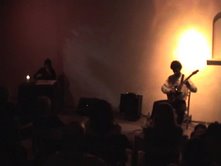 Oh bene, abbiamo finalmente il video dello spettacolo
ITHAKA
, una
bellissima e recentissima avventura creata a Parigi con il chitarrista
Federico Casagrande
. Molta poesia di fatto fra musica e testi, e
improvvisazione totale
voce e chitarra, per un'ora di spettacolo riassunta qui in sei minuti. L'ho postato accanto a destra, nella sezione "STUFF"... Buona visione!
So finally you will be able to watch my brand new show
ITHAKA
, a
totally improvised-thru hour of poetry and music
with
guitarist Federico Casagrande
. This project is born in
Paris, my new home town
! You can watch the video by clicking on it in the section "STUFF" down here on your right...
Voilì voilà, la vidéo est prête! C'est donc
ITHAKA
,
grand voyage improvisé de musique et de poésie, créé à Paris
avec le guitariste
Federico Casagrande
le printemps dernier. Cherchez-le dans la section "STUFF" ici à droite!